Frequently asked questions
PARTICIPATING AS AN ARTIST
When can I register for the next TAE Call For Artists?
---
Our Call for Artists goes out at different times each year. Our announcement schedule depends on circumstances surrounding opening dates. We try to allow ample time for our artists to create their work. Our main communication is via Twitter. Twitter Art Exhibit organizers will be tweeting details about the next event on the Twitter account page here @twitrartexhibit. TAE will follow up with social media interaction via our Facebook fan page, our Instagam page, our new YouTube channel, and lastly, via our email subscribe list to get the word out. Please be sure to follow us and subscribe so that you don't miss out! Our Announcement on YouTube for TAE21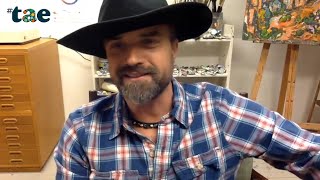 Due to the COVID pandemic, David Sandum could not attend the TAE20 event in Myrtle Beach, so he gave his opening speech via live stream from his studio in Norway. It is a TAE tradition that David announces where the following year's TAE will take place during the opening ceremony.
---
How do I register for a Call for Artists?
---
Look for the register button on the front page of this website and click on it. It will look something like this and ...
... we will always keep it prominantly at the top of the page. Click or tap the button. It will take you to a page with details on how to register. If you're on your desktop computer, it will look something like this:
Be sure to either " create an account" or sign in to your existing account, by clicking on the " log in" link. (You will also see the log in link in the website header at top right.) By creating a site member account, you'll be able to retrieve all the important exhibition details, such as deadlines, requirements, and where to send your artwork. Then either click on " Head to Registration" to register right away, or scroll further down the page to read more about the exhibition. Next, be sure to click the [ + ] under the " Quantity" column to bring the number 0 to 1. This means only YOU are registering yourself. If a friend wishes to register with you, they must register themselves separately. Then click the " Checkout" button.
You'll then be directed to our checkout page where we'll collect the required details.
Yes, we realize you're not actually "buying" anything, so please forgive that is says "Buyer Details" for the moment and just fill in the required info. Note: If your login member account email matches the email address you use on your registration form, then you will see this registration as confirmed in your account pages once all info is filled out and you click the " continue" button. The next page will show a confirmation message stating that you have successfully registered. Two confirmation emails will be auto-sent to the email address you used on your form. If you didn't receive any confirmation of registration, please contact Carole, our tech support, here: admin@twitterartexhibit.org.
---
How many cards can I submit?
---
Although we want to make this the biggest international exhibit possible, the number of entries accepted will depend on overall participation and available space at the local level. Currently, our goal is to include one card per participating artist (please do not send more than one).
---
Is there an entry fee?
---
No, this is a charity exhibition. There is no entry fee and every participant, artist, and organizer is an unpaid volunteer. We are all pooling our talents for a good cause.
---
When is the Deadline?
---
Each curator/organizer sets his/her own deadline. Please read the Call for Artists carefully to find out what the cut-off date is. A good rule of thumb is to allow at least 10 days for shipping if you reside within the country where the exhibition is taking place. For artists residing outside the country, we suggest you give yourself at least two weeks. If there is a problem or concern, please use the contact information provided on the Call for Artists to reach the local organizer.
---
What if I don't agree with something here, or don't want to be included in a video or a book?
---
You are of course free to disagree, and in that case, simply refrain from participating. We are constantly receiving feedback from participants, and we strive to improve the experience for everyone involved. Keep in mind that the Call for Artists and these FAQs constitute our "user agreement" and that by submitting your artwork to us, you agree to our terms and may be included in a book and/or video about the exhibition. Please keep in mind that many organizations would in fact charge artists to be included in their publications. Any published materials will be created in the spirit of promoting artists and supporting the TAE organization, whose board members are contributing hundreds and hundreds of hours to the project without pay. TAE board members personally incur many out-of-pocket expenses (for example, website fees, marketing, and publicity costs, printing costs for postcards, and other promotional materials, etc.), which are currently impossible to recoup. As we look to the future, we must think of practical ways to support the expansion of the TAE concept. If you are uncomfortable with anything here, please do not participate.
---
What media and genre are acceptable?
---
Acceptable Media: Please use spray fixative for loose mediums and remember to properly prime/gesso your surfaces if you work with oils, allowing them to fully dry before shipping. Every year we have to peel artwork out of envelopes that have stuck! Linocuts, etchings, silkscreen, woodcuts, lithographs (printmaking) are accepted if they are the correct size, hand-signed, and originals. We are also accepting Digital Art if it is of a high standard, an original created for TAE and printed to a high quality on the required paper or card. NOT ALLOWED : A printed promotional postcard does not constitute an original piece of art and will not be accepted. And please, nothing perishable, toxic or otherwise harmful. NO VERY THICK 3D postcards! These cannot be hung in the exhibition. Genre: As the TAE events are open to the public and families with children may be present, we ask that you consider making the subject matter appropriate for ALL audiences and that no artwork with an offensive or an 'adult' theme be submitted. The definition of "offensive' and "appropriate" is obviously up for debate, but please use common sense. The Curator and the TAE board has the right to not accept any piece of artwork into TAE that does not comply with the above requirements.
---
Do I need to reside in the country where the exhibit is taking place?
---
No. People from all over the world can participate in the Twitter Art Exhibit.
---
Where do I send my artwork?
---
We've included all instructions (including mailing address) on our member pages here (see "Postage & Shipping" section): https://www.twitterartexhibit.org/account/artistschecklist At the time that you registered, you should have received a separate email from <notifications@wixevents.com>. That was your confirmation of registration and it includes a unique ticket number and order number. Please include a printout of your ticket and include it with your artwork. This will help us with our cataloguing.</notifications@wixevents.com> You should have also received a second confirmation email from <admin@twitterartexhibit.org>. Be sure to check your spam folder to make sure it didn't end up there. The second confirmation email included a link to the "Artist's Checklist", which contains all the pertinent information for participation in the Twitter Art Exhibit.</admin@twitterartexhibit.org>
---
I read "How do I register..", but I'm still having problems registering.
---
I'm sorry you're having trouble registering. If you email us at admin@twitterartexhibit.org your Full name, region, and country you are from, and either a Twitter handle, Instagram handle, or both, Carole, our tech support will get you registered and in the system. In the meantime, be sure that you create a site member account by clicking the login link in the top right corner of our website header.
---
---
CARD SALES
How much will my card sell for?
---
Sales of individual cards or in packs of 4 will be determined with each exhibition. The typical price will be around $40 (USD), £30 (GBP), or €33 (EUR) per card for instance. There is a discount offered when buying in packs of 4. Many, if not all of these cards are worth a lot more, we know, but this will allow more of the public to purchase them and raise the required funds for the charity.
---
What happens to unsold work?
---
Additional cards left over at the end of the official event and sale will be donated to the charity to use for further fundraising. NO donated card is ever thrown away and is treated with great respect!
---
How do we know that the funds are going to the charity?
---
They have made it so far, with proceeds from postcard sales going to our charities. This is one of our biggest concerns. We will do everything in our power to ensure that our initiative does not exploit anyone and that schemers do not make off with our concerted efforts.
---
How will I know if my card has arrived or has been sold?
---
We will notify you by tweeting your Twitter handle once we have received your card and it has been processed. Once the card has sold we will notify you again the same way. Please, if you could refrain from asking us about sales and arrival of cards as it is time-consuming for the volunteers to answer individual questions outside of the normal process. If, however, it has been a long time and you have not heard from us, certainly, contact us and we will look into it for you.
---
---
THE EXHIBITION OPENING
Will there be a YouTube video or Social Media exposure of the opening?
---
We've recently created a YouTube channel for the pupose of sharing our events via live streams and recordings. We also created a live streaming page on our website here: www.twitterartexhibit.org/live. We will also be sharing live streams in various other locations, such as Periscope, Facebook, and Twitter. Please follow our Twitter feed here to stay in the know of where our videos and streams will be appearing. Please note that these peripheral projects are extremely time-consuming and will depend on the local curator/organizer's, and teams' resources, so we cannot guarantee when these will be available following the exhibition.
---
How can I help spread the word?
---
This is your exhibit! Please post a picture of your card on Twitter before you send it, mentioning our official Twitter account and using the hashtags, #TAE21 and #TAEfamily. Please follow us! We appreciate RT's, and we will try to communicate as much as possible on Twitter publicly and through the media. Don't forget to include this event on your resume as a group exhibition once we have confirmed your participation. You can also interact on our Facebook and Instagram pages and share our posts on social media.
---
---
ACCOUNT LOGIN
I'm having trouble logging in to the website.
---
If you are getting a "Wrong Email or Password" error message. You may be entering a different password that you signed up with. In this case, select the "Forgot Password" link. Enter your email address at the prompt. And click "Reset Password". If you are getting the error message: " This email doesn't match any account". That only means you've never actually created an account on our website using the email address you're using to log in. Perhaps you've logged in before using another email address. To resolve: Try logging in again, but select "Sign Up" and create your site member account. If you are registered for a TAE event with us, please be sure to use the email you used upon signing up. This way, you'll be able to access your registration details in your member pages. Still having trouble? Please contact our tech support, Carole. Fill out our tech support message box on our contact page and she'll assist you.
---
Do I need to Create a Member Login to Purchase or Register for a Call for Artists on your Website?
---
To participate as a TAE artist, we are asking that you DO create a site member account so that you can retrieve all the relevant info you will need for participating in the exhibition. We have found that this is much easier for the artists to manage when searching for details months after you've registered. Click Member Log In in the top right corner of the webpage header. Select, " Sign Up", where it says, " New to This Site". You do not HAVE to use the same email address you used when registering for a TAE Call For Artists, but if you use a different one, then you will not see your registration status in your member pages. If you've already created an account with a different email, simply create a new account to match the email you used to register with. When you come back and Log in, Click on the 'arrow' by your name for the drop down menu of choices to view selections on your account page.
---
---
FORUM
Who is allowed to post in the Forum?
---
If you have created a site member account and agree to our "terms of use", then you can post in the forum.
---
---
WEBSITE FUNCTIONALITY
How do I enable 3rd Party Cookies on my Browser?
---
Cookies play an important role in our browsing experience. Without them, using the web would be a much more frustrating experience and many sites would be hard to navigate and operate. So, below are step by step instructions on how to enable the 3rd party cookies on your web browser: Google Chrome Windows user - Click the Chrome menu and select Settings. (Mac user - choose Chrome > Preferences). Near the bottom of the page, click Show advanced settings... In the "Privacy" section, click Content settings, then to cookies. In the cookies page, make sure the slider is off to Block the 3rd party cookies. Close and reload the browser. Mozilla Firefox Windows user - Click on the Tools menu, and then select Options. (Mac user - choose Firefox > Preferences). Select the Privacy & Security panel. Under Cookies and site data, set the checkbox to Accept cookies and site data from websites. Note: Make sure that 'Accept third party cookies and site data' is been set to "Always". Close and reload the browser. Safari Choose Safari > Preferences, and then click Privacy. In the "cookies and website data:" section, uncheck the box to allow all the cookies. Close and reload the browser. Internet Explorer Click the Tools button, and then click Internet Options. Click the Privacy tab. Under Settings, go to Advanced Settings. Then click on accept radio button at First Party and Third Party Cookies. Click Ok to close the settings and reopen the browser. Microsoft Edge Click on the 3 horizontal dots on the top right corner and then click Internet Options. Then drag nearly the bottom and go to Advanced Settings. Under the Privacy Section, drag down until you find a text box which has 3 options to Allow/Block the cookies. Choose "Don't block cookies". Close and reopen the browser. Safari on IOS Click on the Settings icon and locate safari. Click on Safari and go to the nearly bottom for Privacy & Security section. And make sure that Block all cookies are not enabled Close and reopen the browser. Chrome on Android Click the three vertical dots on the top right corner in the Chrome and select Settings. Find the advanced section and go to Site settings. Inside the site settings, click on cookies and tick the "Allow 3rd party cookies" checkbox. Close and reload the browser.
---
---
REGISTRATION
On my Member Pages, My Registration isn't appearing.
---
There are two reasons why this may occur. #1: Your registration wasn't complete. If you didn't receive two confirmations from us (one from <notifications@wixevents.com> and another from <admin@twitterartexhibit.org>) at the time you registered, then this is likey the issue. Please go through the registration process again. You should receive a confirmation of registration immediately if it was succesful.</admin@twitterartexhibit.org></notifications@wixevents.com> #2: You created a site member account using a different email address than the email you registered with. To remedy, simply create a second account using the email address you registered with. (Look for the confirmation emails you received from us. Wherever we sent it is the email address you used to register.) There is no way to change your log in email address, so it's necessary to create an additional one to match the email you registered with.
---
I didn't receive a confirmation of my registration.
---
Two confirmation emails are auto-sent to the email address you used on your registration form. Be sure you are checking the email account you signed up with. You should have recieved a confirmation from <notifications@wixevents.com> and also <admin@twitterartexhibit.org>.</admin@twitterartexhibit.org></notifications@wixevents.com> If you didn't receive any confirmation of registration, please contact Carole, our tech support, here: admin@twitterartexhibit.org.
---
I've participated in many TAE events, why is only one showing up in my Member Pages?
---
With our new website rebuild in the early part of 2020, we created a Member Account area where one didn't exist before. Any actvity prior to 2020, by our artists and customers will not appear in the Member pages.
---
---